Interview: ChinaTel to Serve 4G to First Customers This Summer
Our friends at Frost & Sullivan just posted a wonderful interview with George Alvarez, Chairman & CEO of ChinaTel ($CHTL.PK). (Note that ChinaTel is in the process of changing its name to VelaTel Global Communications to better reflect its global marketplace. Learn more here.)
Below is a very brief excerpt from their "Movers & Shakers" interview that perfectly encapsulates why we believe an investment in this company now will pay off handsomely over the next three to five years ... and as soon as the next couple of fiscal quarters...
Frost & Sullivan: Can you talk a little bit about what your expansion plans are outside China and the things you are doing in places like Peru?
George Alvarez: Well China is our No. 1 market and, by the end of 2015, we should be in about 60 cities in China. That's our No. 1 focus. Our secondary focus is in South America. We have spectrum assets there. We are currently deploying Peru for the entire country. We have already placed orders for the equipment; as a matter of fact, I think the equipment lands while we are speaking. That is a very aggressive market for us as the anchor for that continent. ... In Eastern Europe and Russia we will have spectrum holdings there also. You will likely see those announcements in Q2 or Q3.
Bigger things are coming from this group -- I love it!
Read the full Frost & Sullivan interview with George Alvarez here.
About the Author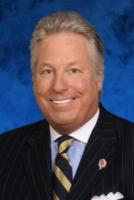 Founder and Editor-in-Chief for NBTEquitiesResearch.com. Contributor and Anchor for the Fox News Channel and Fox Business Network 2000-2013. Chairman & CEO of NBT Group, Inc., a boutique private capital investment bank and investor relations organization.