TurkPower Exec Reveals Details About New Iron Ore Mine Deal
We are becoming huge fans of TurkPower ($TRKP) here at NBT. It's a fast-growing junior miner/energy player in the second-fastest-growing economy in the world ... what's not to love?
In fact, we recently issued a research report with our forecasts for the company...
Find out why we view $TRKP as a Strong Buy
But we're not the only ones who want this powerful Turkish play on our investing plates. There's a great Q-and-A that was just posted online with TurkPower Executive Chairman Ryan Hart that I encourage you to check out. You read it here last week that $TRKP took a majority interest in a local iron ore mine; this interview gives you some new information about the deal...
Read the Ryan Hart interview here
About the Author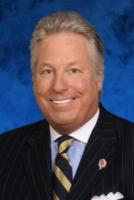 Founder and Editor-in-Chief for NBTEquitiesResearch.com. Contributor and Anchor for the Fox News Channel and Fox Business Network 2000-2013. Chairman & CEO of NBT Group, Inc., a boutique private capital investment bank and investor relations organization.