Major Shareholder Lazarus Investment Partners Ll Acquires 347,800 Shares of Barfresh (BRFH)
Barfresh Food Group (BRFH) major shareholder Lazarus Investment Partners Ll acquired 347,800 shares of the stock on the open market in a transaction that occurred on Thursday, June 19th. The stock was purchased at an average cost of $0.53 per share, with a total value of $184,334.00. The purchase was disclosed in a legal filing with the Securities & Exchange Commission, which can be accessed through this link. Large shareholders that own 10% or more of a company's shares are required to disclose their sales and purchases with the SEC.
Shares of Barfresh Food Group (NASDAQ:BRFH) traded down 4.63% on Monday, hitting $0.525. 9,400 shares of the company's stock traded hands. Barfresh Food Group has a 52 week low of $0.22 and a 52 week high of $0.84. The stock's 50-day moving average is $0.65 and its 200-day moving average is $0.59. The company's market cap is $31.3 million.
Want to learn more about BarFresh? Check out our exclusive interview with CEO Riccardo Delle Coste.
Sources: Intercooleronline.com
About the Author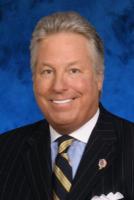 Founder and Editor-in-Chief for NBTEquitiesResearch.com. Contributor and Anchor for the Fox News Channel and Fox Business Network 2000-2013. Chairman & CEO of NBT Group, Inc., a boutique private capital investment bank and investor relations organization.